---
Is one of your New Year's resolutions to exercise more? If you need a boost then the patented Putnam Library Workout may be for you! (Patent pending.)
Step one: Walk around the library! To add a little extra oomph, walk up and down the stairs to the library loft! One lap = 150 steps. (All steps calculated on Ms.  Sokoll's Fitbit.)
Step two: Don't just read that heavy textbook, lift it! In case you didn't already know, your textbooks are super heavy! Use them to do some lunges.  
Step three: Have a quiet dance party! Check out and then rock out with a pair of library headphones!
Step four: Napping.  Don't forget to take a break!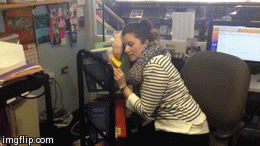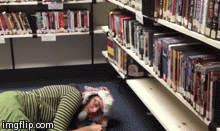 Step five: Stairs! We have TWO flights of stairs in the library.  Walk up to the library loft and while you're up there, check out our Nobles Author Collection!
Step five and a half: Once you're in the loft, do some hot yoga! It's 100 degrees up there!
Step six: Refuel with some delicious snacks courtesy of the librarians.  We have a wonderful selection of tea, water and half-eaten chocolate bars.
Step seven: Dead lifts. We are not sure what dead lifts are, but we think they involve lifting heavy things — maybe until you pass out. So lift some of our heavy books!
Step eight: Strengthen your grip with the library supplies.  Use staplers and hole punchers at no extra cost!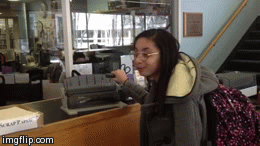 Step nine: Bench a box! If you want to be super strong like Mr.